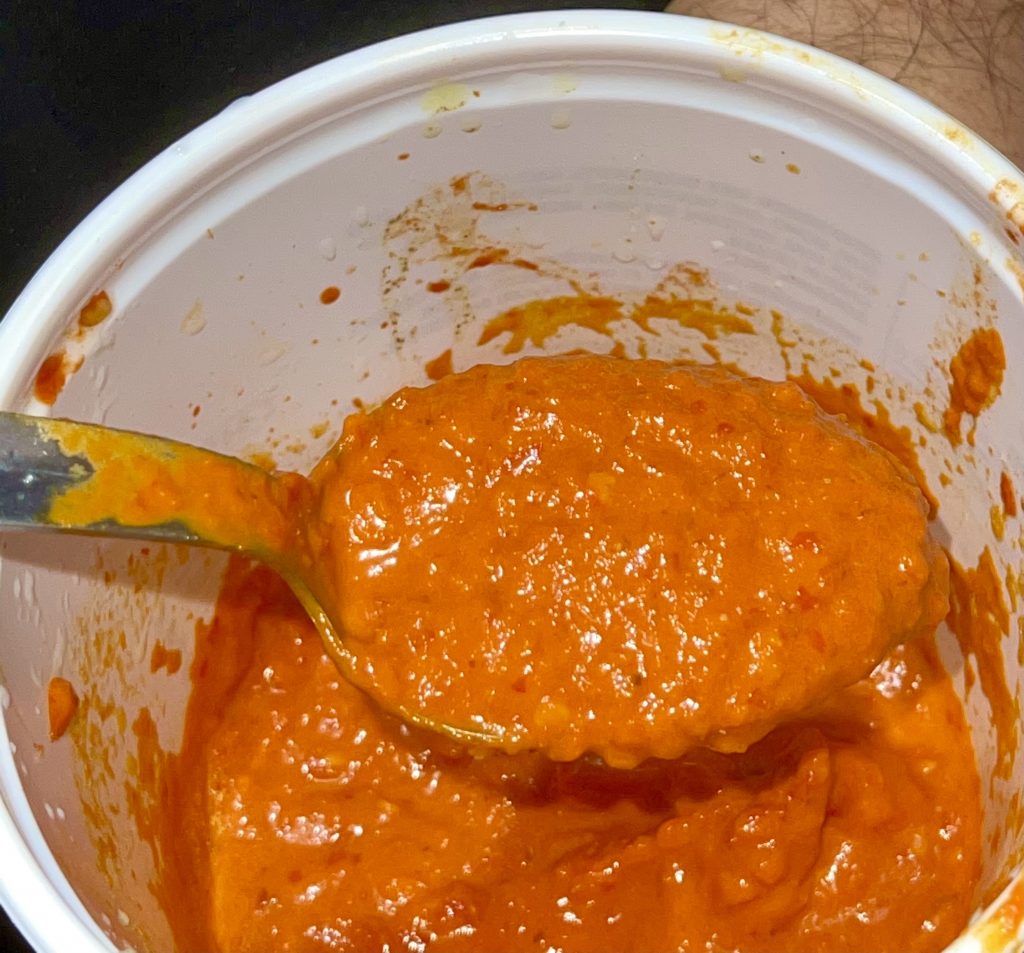 Because I'm me, I sometimes buy things that I've never cooked with before or even eaten and I don't have any specific dish in mind. I've done this with pea sprouts, octopus, duck breast, jicima, and so many other things. I then look for recipes after I get these new-to-me ingredients home. I mean, how could I not when living or visiting countries like Malaysia, Singapore, or France? I'd be crazy not to!
Enter the lamb shank. I found a recipe that looked appealing – I'll post it in the next day or two – and the recipe called for harissa. So now I needed harissa.
The husband and I have had harissa before when we lived in France. There's a fairly significant number of immigrants in France from Northern Africa, after all. The harissa that we'd had was shop-bought and we didn't like it much. It had heat, but the flavour was rather lacking. It was flat. It didn't have enough salt for starters, and the flavours weren't balanced. But I'm… stubborn and figured that it could have been just that brand that we'd bought at the local grocery store. So I figured why not?
Happily, this harissa ended being the best thing ever. When the husband tasted it, his face lit up like a kid in a candy store.
When making this, keep in mind that it's highly variable. I found recipes that called for tomato paste (one), most called for roasted red bell peppers (but not all), and some called for chillies only but no tomato or bell pepper. I decided to come up with something sort of in the middle-ish and see how it went, knowing full well I could adjust it as I liked.
I meant to add sun dried tomatoes, but ended up not as I'd forgotten. I suspect they'd add a nice sweetness to the harissa. But even without, the harissa was still incredibly good and something that I now have no choice but to keep stocked in the fridge.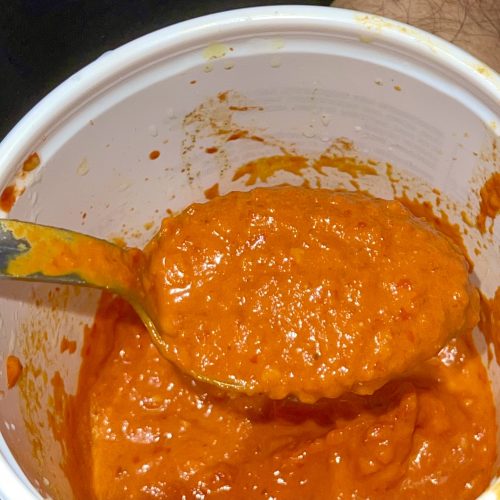 Harissa Paste
Harissa is a chili paste that can be used as a condiment or as an ingredient in another dish to add flavour and heat. Harissa is of Tunisian origin.
Ingredients
Harissa Paste
1/2

red bell pepper

roasted, skin peeled

55

g

dried chiles

4

cloves

garlic

peeled

1

tsp

coriander seeds

1

tsp

cumin seeds

1.5

tsp

salt

or to taste

2

tbsp

extra virgin olive oil

plus more for storing

3

tbsp

lime juice
Optional additions:
preserved lemon

fresh or dried mint

fresh cilantro

sun-dried tomatoes

tomato paste

cayenne

paprika
Instructions
Cover the dried chilies with boiling water. Let soak for 30 minutes.

Toast the spices in a dry skillet over low-medium heat, shaking or stirring to prevent burning. When the spices are fragrant, remove from the heat.

Grind the spices in a mortar and pestle, spice grinder, or coffee grinder. I use my stick blender with the spices at the bottom of a narrow bottle.

Drain the chilies, reserving the liquid.

Remove and discard the stems from the chilies. Remove the seeds as well if you'd like to keep the heat levels down. Wear gloves.

Combine the chilies, spices, garlic, and salt in the bowl of a food processor. I use my stick blender with the ingredients in the bottom of a narrow jar.

Drizzle in the olive oil while the food processor / blender running and process to form a smooth and thick paste. Scrape down the sides of the bowl occasionally. If a thinner paste is desired, add some of the chili liquid until the paste is at your desired thickness

The flavor of the harissa won't be as good right now. It will have sharpish edges. But you can taste it and make any corrections needed now if you like and also add any optional ingredients. Refrigerate over night, then taste again and make any additional corrections as desired.

Put the harissa in a jar and cover the surface with a thin layer of olive oil. Cover and refrigerate for up to a month. Add additional olive oil to the top as needed to keep it covered.
Notes
Chilies: Use whatever chilies you like.
For moderately spicy harissa, try a mix of Guajillo and New Mexico chiles. Add heat with Arbol or Puya chiles. Add smokiness with Chipotle or Morita chiles. Add richness with Ancho, Mulato, or Pasilla chiles. For a very mild harissa, use roasted red bell peppers.
To use fresh chilies instead: Use twice as many fresh as dried (e.g., 110 grams fresh chilies instead of 55 grams dried). You can also use a mix of fresh and dried chiles.
There's a great deal of variability here – feel free to mix things up and find whatever works best for you.